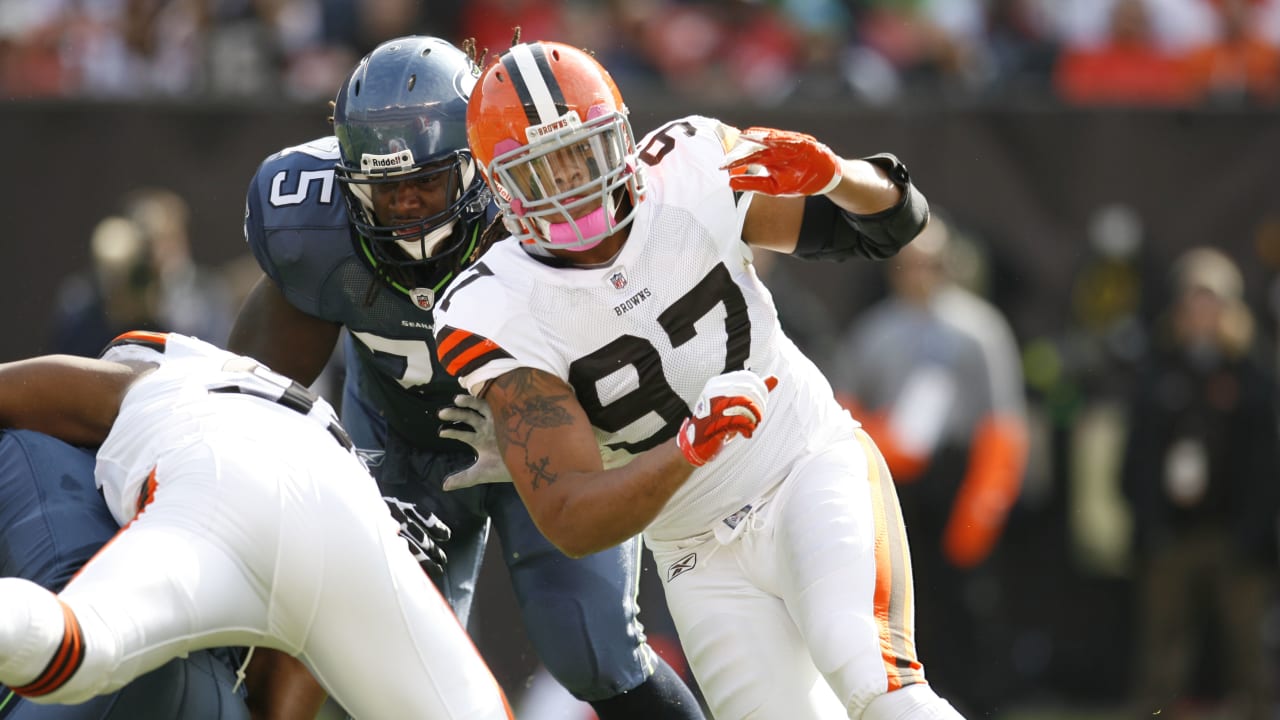 Since the Browns have the 49th pick in this year's draft, we'll also be taking a look at who was picked at No. 49 in these past drafts, too.
2009 – No. 49 (Seahawks): C Max Unger, Oregon
Only five players in the second round of the 2009 draft made the Pro Bowl at one point in their career, and had McCoy not also been selected in this round, Unger would have ended up being the best of all of them. The center was a key piece of Seattle's offensive line en route to two Super Bowls (winning XLVIII), and was just as effective, if not more, after he was traded to New Orleans for tight end Jimmy Graham. Unger retired last month, but only after earning All-Pro honors in 2012 and Pro Bowl praise in 2012, 2013 and his last season, 2018. Not a bad way to go out.
2010 – No. 49 (49ers): S Taylor Mays, USC
Mays lasted in San Francisco for just one year before he was dealt to Cincinnati as a result of the fallout of Mike Singletary's firing. He started a total of 15 games over six seasons, recording 107 tackles before multiple suspensions knocked him out of the league in 2016. He worked out for the Seattle Seahawks in early April.
2011 – No. 49 (Colts): OT Ben Ijalana, Villanova
Ijalana rose from the small-school ranks to a second-round selection in 2011, but an ACL tear suffered during his rookie season sent him out of Indianapolis in about a year's time. He found footing with the New York Jets from 2013-2017, appearing in 30 games (13 starts) over that span of time. He is currently a free agent.
2012 – No. 49 (Chargers): DT Kendall Reyes, Connecticut
Reyes got off to a hot start, recording 10.5 sacks and 62 tackles over his first two seasons with the Chargers. From there, he evened out, eventually making his way to Washington and Kansas City in the same season (2016), his last in the NFL.
2013 – No. 49 (Giants): DT Johnathan Hankins, Ohio State
Hankins had a nice start to his career in New York, replacing the departed Linval Joseph and recording 140 tackles, 26 quarterback hits, 10 sacks and 19 tackles for loss with the Giants from 2013-2016. The Giants decided to upgrade the position, replacing Hankins with Damon "Snacks" Harrison, which sent Hankins west to Indianapolis. He enjoyed similar success as a Colt before spending last season in Oakland as the veteran on a young defensive line.